Schaeffler India promotes sustainability, unveils beautified Jambua circle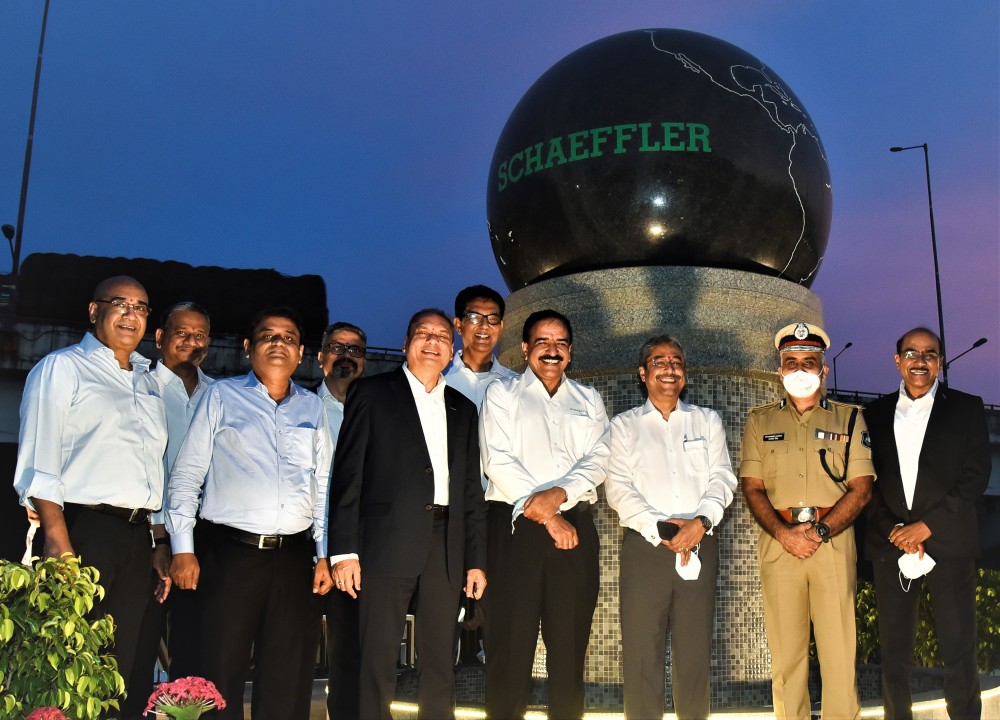 2021-08-25 | Vadodara
The initiative is part of company's commitment to clean & green Vadodara mission
The sustainable installation is dedicated to the Vadodara city under the Swachh Bharat Abhiyan program
The unique engineering marvel is synonymous with company's pioneering spirit to keep technology progress in motion
Schaeffler India, the leading integrated supplier of industrial and automotive components, today handed over the transformed Jambua Circle to the city of Vadodara.
The green isle is located near the golden quadrilateral route NH 48 and forms the entry point to Vadodara through Maneja. As a responsible corporate with a long-standing association with city of Vadodara, the company adopted the circle and has transformed it into a strong symbol that promotes the message of sustainability. The island's layout incorporates a unique engineering marvel in the form of a Granite Globe Fountain at its center, which rotates entirely through water pressure without the need for electrical or mechanical parts. The installation symbolizes company's pioneering spirit, to continue technological progress in motion.
The installation was unveiled by Mr. Shamsher Singh, IPS, Commissioner of Police, Vadodara, and Mr. Sudhir K Patel, (GAS), Dy. Municipal Commissioner, Vadodara in presence of Schaeffler India's leadership team.
Sharing his thoughts, Mr. Harsha Kadam, MD & CEO, Schaeffler India said, "Schaeffler India has a longstanding association with Vadodara city and as a responsible corporate, our vision is to go beyond business and focus on creating sustainable economic and societal development in the region. Our social commitments for the city are well documented and the transformation of Jambua intersection into a strong message of a clean and green city is another step in that direction."
Mr. Santanu Ghoshal, Vice President – Human Resources and Head – CSR, Schaeffler India added, "As a responsible community leader, we take active responsibility in initiatives that supports inclusive development of community while promoting values of innovation and sustainability. Such programs contribute to the prosperity of all stakeholders through our economic success."
The granite globe fountain is a unique blend of engineering and art that perfectly complements Vadodara's rich architectural vibrancy. In addition, to community development projects the company is also working in the areas of Health Care, Professional Skill Development for Employment, Preserving the National Heritage Art & Culture, and Society Empowerment.
Publisher: Schaeffler India
Country: India
Share Page