World premiere: Schaeffler rear-wheel steering system goes into series production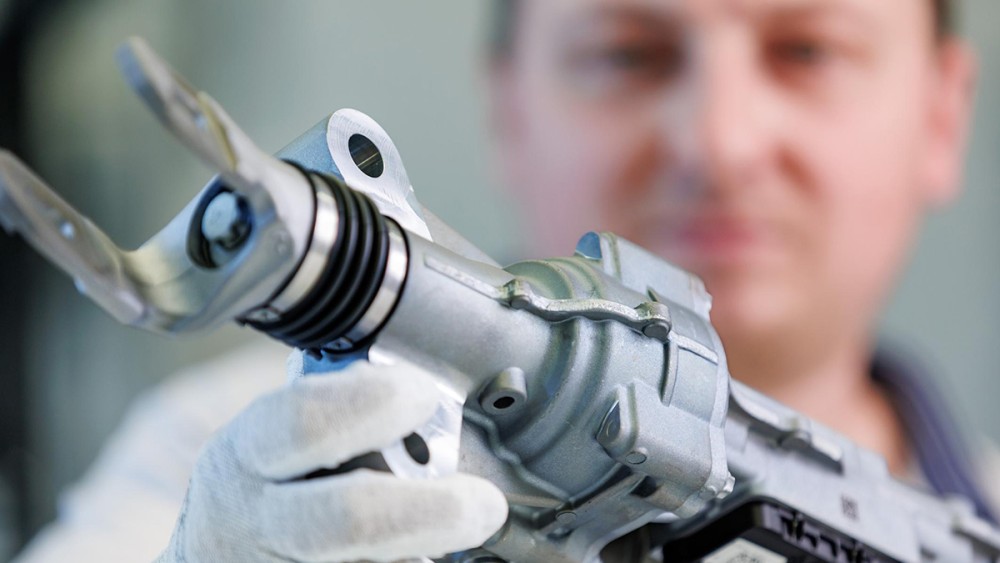 2023-08-29 | Pune
First customer chooses Schaeffler's innovative steering system for its electric SUV; other makes of vehicle featuring the system to go into production soon
Mechatronic rear-wheel steering system by Schaeffler enhances ride comfort, agility, and safety
World's first rear-wheel steering system with planetary roller gear based on Schaeffler precision mechanical engineering
The new mechatronic rear-wheel steering system by Schaeffler has celebrated its series-production premiere, bringing enhanced agility on bends and superior inner-city maneuverability to the new electric SUV of a renowned vehicle manufacturer. By adding steering functionality to the rear axle, Schaeffler's new technology improves handling in city traffic, enhances lane-change stability, and makes the vehicle easier to park. "Schaeffler has developed from a supplier of components for chassis systems to a provider of complete steering systems," said Matthias Zink, CEO Automotive Technologies at Schaeffler AG. "We have built up extensive capabilities around steering systems in recent years because we see this as a strategic growth area for our business." The key to Schaeffler's new rear-wheel steering system is the planetary roller gear – a world's first based on precision mechanical engineering from the company's in-house industrial technology operations. The result is a highly compact system that is lightweight, quiet in operation, and optimized for easy vehicle integration. This innovative steering system has been well received by the market, with the first customer onboard and various other auto makers likewise committed to using it in their vehicles. In fact, further vehicle models featuring the steering system by Schaeffler are due to go into production before the end of 2023 as well as in 2024.
Ahead of the pack with an innovative planetary roller gear
Schaeffler's rear-wheel steering system consists of two subassemblies. The first – and the key to it all – is a precision mechanical system featuring a planetary roller gear from the company's Industrial division that has been specifically adapted for automotive applications. The second is the powerpack, comprising the electronics, electric motor, and software. Schaeffler develops the overall system and takes care of its integration into the customer's vehicles.
The planetary roller gear sets the Schaeffler system apart from rear-wheel steering systems made by other manufacturers, which traditionally use trapezoidal screw drives. Consequently, the Schaeffler product not only meets the stringent safety standards of Automotive Safety Integrity Level D (ASIL D), but it also yields significantly increased efficiency, reduced friction, and shorter system reaction times. This allows Schaeffler to generate a precise as well as save vehicle motion. This is especially advantageous for drivers of electric vehicles because it compensates for the downsides of the longer wheelbase necessitated by the underfloor battery position common in such vehicles. A longer wheelbase means a larger turning radius and hence reduced maneuverability. The Schaeffler rear-wheel steering system overcomes this problem in a number of ways. First, when the vehicle is changing lanes at higher speeds, the system turns the rear wheels in the same steering direction as the front wheels, enhancing stability, handling, and safety. Secondly, on tight bends, the system improves vehicle agility by turning the rear wheels in the opposite steering direction to the front wheels. This creates a virtual reduction in wheelbase, enabling the driver to steer through the bend with ease. In the same way, the system also reduces the vehicle's turning radius, making it much easier to maneuver, park, and make U-turns in tight inner-city spaces. And finally, the technology improves the active intervention capabilities of automated lane change assist systems.
Lighter, smaller, quieter
Other benefits of the new Schaeffler system include an improved steering feel as well as increased safety and ride comfort. "Thanks to its optimized inner design, our rear-wheel steering system is more compact and requires less installation space in the vehicle," said Clément Feltz, Head of Chassis business division at Schaeffler. "As a result, automakers can save up to 15 percent in weight compared to alternative systems." In addition, the whole design of the system has been acoustically optimized, making today's ultra-quiet electric cars even quieter. The system – and its customers – also benefit from Schaeffler's longstanding excellence in precision mechanical engineering.
Schaeffler's journey as a provider of highly sophisticated chassis systems
Schaeffler can look back on many years as a supplier of individual chassis components – wheel bearings, strut bearings, spring cup bearings, universal joint bearings and the like – to the automotive industry. But in 2009, Schaeffler took a new direction when it started series production of its ball screw drive, a product that draws on the precision mechanical engineering know-how of the company's tool manufacturing department. Today, the ball screw drive is an integral part of many chassis systems, including electromechanical steering systems and brakes. This product was followed in 2015 by the series launch of the Schaeffler active roll control system. This was the company's first mechatronic ride comfort system, comprising precision mechanical components, an electric motor, and electronics. It was also the world's first chassis actuator to go into series production with variants for both 12V and 48V systems. Unlike passive anti-roll systems, the Schaeffler system reduces the roll angle, which markedly improves vehicle stability and ride comfort. And now, with the rear-wheel steering technology, there is another Schaeffler mechatronic chassis system on the road.
There is yet another Schaeffler chassis solution due to hit the market this year. The solution, the first electrohydraulic power steering system specially designed for front wheel steering in commercial vehicles, will be used in series production for a Chinese vehicle manufacturer. This system will initially support Level 2 automation and subsequently higher-level autonomous driving functions. "Schaeffler first started out in the chassis systems market with precision mechanical components. Today, we are developing and manufacturing complete mechatronic chassis solutions of all kinds, ranging all the way to fully integrated rolling chassis concepts," Clément Feltz said. He heads a division of the company's automotive technologies business that will continue to be systematically developed into an integrator of chassis systems for large-scale automotive production and new forms of mobility. The company's first key components for steer-by-wire systems will go into large-scale automotive production midway through the current decade, with plans that complete, fully integrated steer-by-wire systems will follow.

Visit Schaeffler at the 2023 IAA Mobility show in Munich: At this year's IAA Mobility show at the Munich Exhibition Center, Schaeffler is exhibiting a whole range of new technologies for sustainable, efficient and comfortable mobility. These include solutions for inner-city goods delivery using e-cargo bikes, a new type of steering system, high-efficiency electric and hydrogen drives, new mobility concepts, and more.
Schaeffler press conference: Monday, September 4, 2023, 11:00 a.m. to 11:20 a.m. (CEST): Klaus Rosenfeld, CEO of Schaeffler AG, and Matthias Zink, CEO Automotive Technologies at Schaeffler AG, will address the media at the Schaeffler showcase at Booth B40 in Hall B3 and online via live stream.
Schaeffler at the IAA Conference:
Wednesday, September 6, 2023, from 4:00 p.m. to 4:45 p.m., Main Stage, Hall A1. Session: "Towards a Sustainable Automotive Value Chain – Ambitions, Challenges & Collaboration." Speakers include Matthias Zink, CEO Automotive Technologies, Schaeffler AG.
Thursday, September 7, 2023, from 3:00 p.m. to 3:45 p.m., Visionary Clubhouse, Hall A2. Session: "Here to innovate: revolution needs cooperation! Disruptive thinking, new technologies, new vehicle concepts – partnerships as enablers for innovation and change". Speakers include Ralf Busse, mocci | CIP MOBILITY GmbH; Kersten Heineke, McKinsey Center for Future Mobility; Dennis Müller, Enchilada Franchise AG; and Claus-Dieter Schilling, Schaeffler.
Schaeffler and mocci are also teaming up for the IAA Experience at the IAA Summit in Hall A3. There, on the Cycling & Micromobility Course, visitors will be able to test-ride mocci e-cargo bikes featuring drive technology by Schaeffler. The IAA Experience is open from 9:00 a.m. to 6:00 p.m. daily from September 4 to 8.

Forward-looking statements and projections
Certain statements in this press release are forward-looking statements. By their nature, forward-looking statements involve a number of risks, uncertainties and assumptions that could cause actual results or events to differ materially from those expressed or implied by the forward-looking statements. These risks, uncertainties and assumptions could adversely affect the outcome and financial consequences of the plans and events described herein. No one undertakes any obligation to publicly update or revise any forward-looking statement, whether as a result of new information, future events or otherwise. You should not place any undue reliance on forward-looking statements which speak only as of the date of this press release. Statements contained in this press release regarding past trends or events should not be taken as representation that such trends or events will continue in the future. The cautionary statements set out above should be considered in connection with any subsequent written or oral forward-looking statements that Schaeffler, or persons acting on its behalf, may issue.
About Schaeffler India
Established for more than 60 years, Schaeffler India is a leading motion technology company with 4 manufacturing sites in Pune, Vadodara, Maneja, and Savli, 3 R&D centres, and 8 sales offices. In 2022, the company reported sales of INR 4990 million, supported by a team of 3190 employees.
Its innovative technologies, products, and services for electric mobility, CO₂-efficient drives, chassis solutions, Industry 4.0, digitalization, and renewable energies make it a preferred technology partner for making motion more efficient, intelligent, and sustainable – over the entire life cycle. The company's wide range of products and component solutions includes a variety of ball bearings, cylindrical roller bearings, spherical roller bearings, and wheel bearings under the FAG brand, Engine and powertrain components under the INA brand, and clutches and hydraulic systems under the LuK brand. Schaeffler India maintains a comprehensive after-market network, serving a wide range of customers. Schaeffler India's unwavering commitment towards quality, innovation, and corporate social responsibility aligns with its global vision, contributing to the development of mobility and industrial technology in India.
Publisher: Schaeffler India
Country: India
Share Page