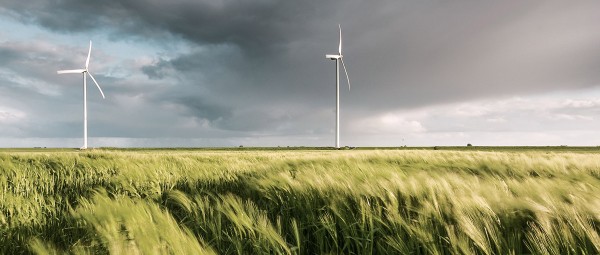 Simulation, Calculation and Test
Optimum Design
State-of-the-art Calculation and Simulation Programs
Our specialists work in close cooperation with wind turbine developers, manufacturers, and operators. State-of-the-art calculation and simulation programs ensure that optimum designs for bearings for wind power applications are produced. The entire system is considered, from individual rolling bearings and their components and adjacent construction through to the entire power transmission system, which is displayed and optimized using multi-body simulation programs developed in-house.
With its realistic force and torque simulation, Astraios has been providing valuable results since 2011, which are used for the new development of bearing solutions and for the optimization of the simulation and calculation models.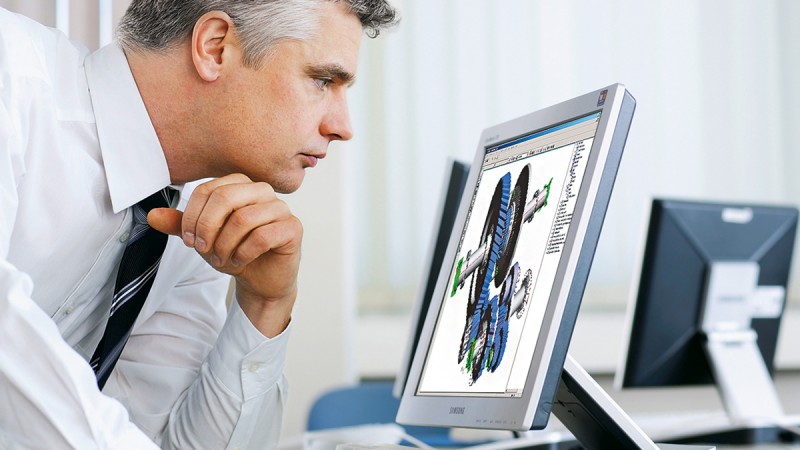 Schaeffler Calculation Chain
From Complete Systems to the Rolling Contact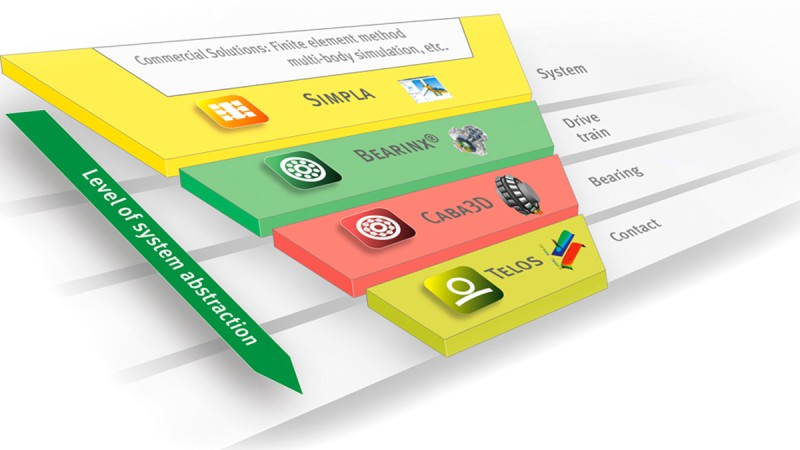 The Schaeffler calculation chain includes CAE tools that are perfectly suited to the specific requirements of the design.
SIMPLA: system simulation with rolling bearing expertise
BEARINX: bearing design with an understanding of systems
CABA3D: a dynamic view inside the bearing
TELOS: where the focus is on contact
SIMPLA: system simulation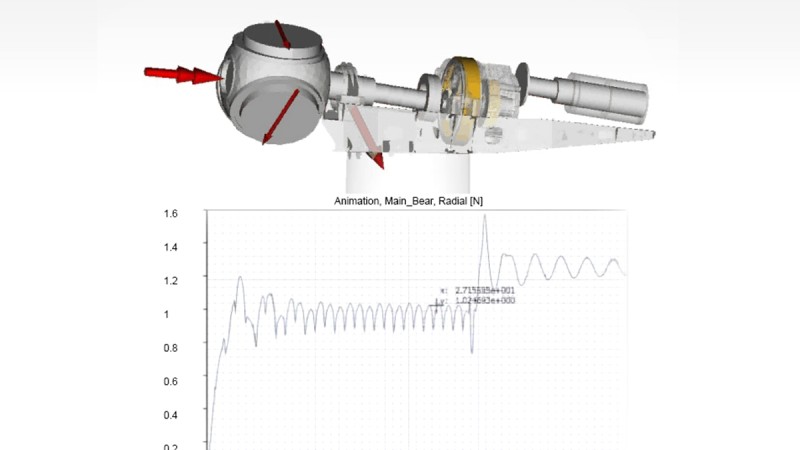 With the hybrid multi-body simulation (MBS), the dynamic behavior of the entire wind turbine is displayed.
Based on the model, individual components of the drive train and the entire turbine design can be improved as early as the development phase.
Hybrid multibody simulation (MBS) with a non-linear, multi-dimensional coupled bearing model
MBS model can be derived from existing BEARINX model
BEARINX: optimum bearing design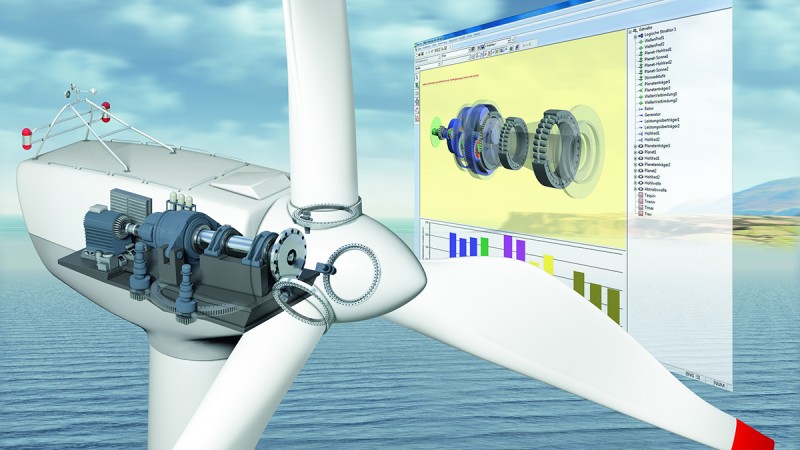 With the BEARINX software, all bearing types, complex shafts, and shaft systems through to complete drive units can be modeled and calculated.
Amongst others, BEARINX considers the following factors:
Non-linear elastic deflection behavior of the bearings
The deflection of shafts and axes
The deflection of housings and adjacent components
The operating clearance or the preload of the bearings
Roller and raceway profiling as well as raceway osculation
Actual contact pressure considering tilted and profiled rolling elements
The influence of lubricant conditions, contamination and actual contact pressure on the fatigue life.
CABA3D: rolling bearing simulation
CABA3D: rolling bearing simulation
Dynamic analysis of rolling bearings
Determination of force and motion patterns of the rolling elements and rings, taking all degrees of freedom into consideration
CABA3D facilitates the calculation of the frictional energy and the acceleration behavior of the rolling elements, e.g. when they enter the load zone.
TELOS: rolling contact simulation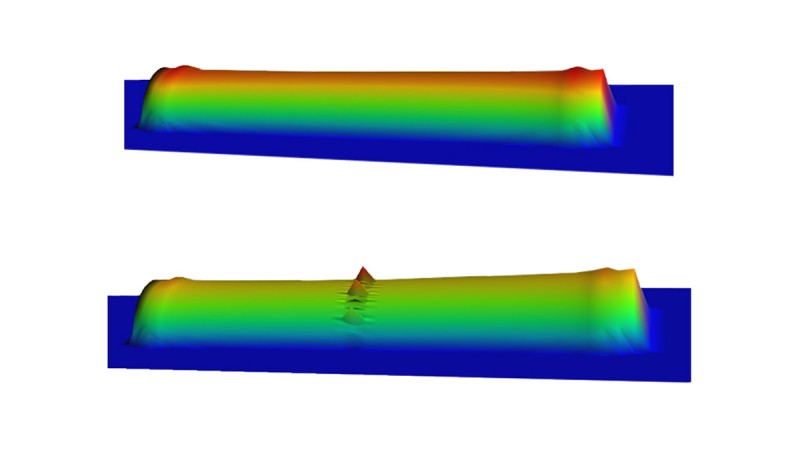 3D rolling contact simulation program
Any contact under general lubrication conditions
Quasi-stationary as well as transient load conditions
Coated and uncoated bearing components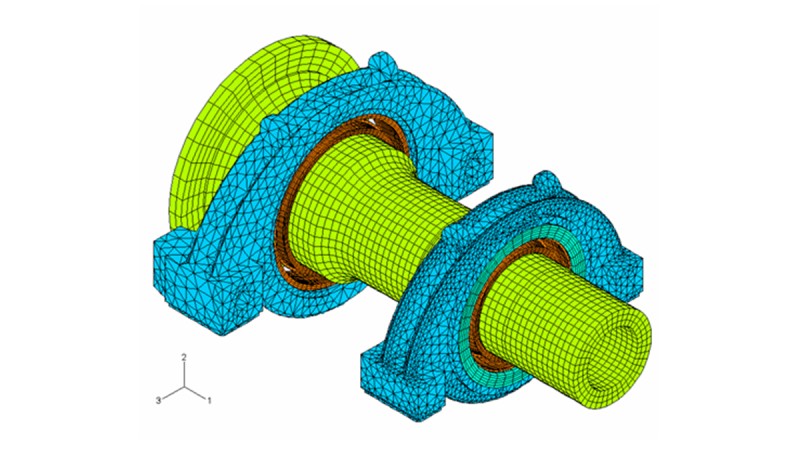 For even more detailed analyses, FEM calculations can determine the influence of the adjacent construction on the bearings and vice-versa.
Large-size Bearing Test Rig Astraios
Increased Reliability and Cost-effectiveness for Wind Turbines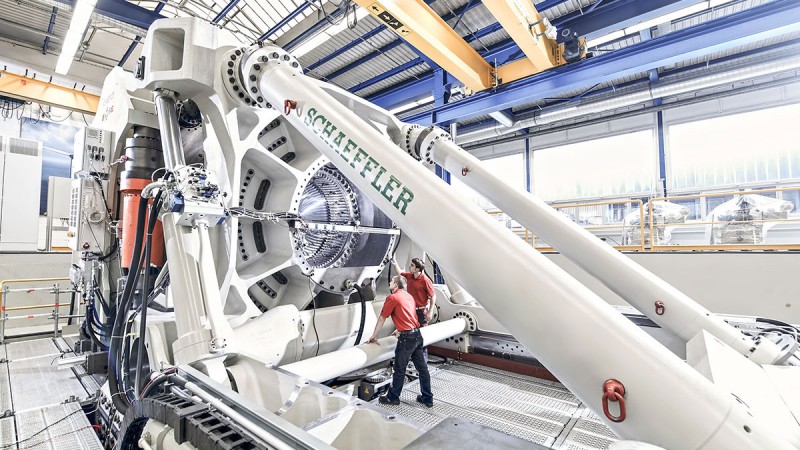 One of the world's largest, most up-to-date, and most powerful large-size bearing test rigs enables bearings of up to 15 tons and measuring up to 3.5 meters to be tested in realistic conditions using a comprehensive simulation program. ASTRAIOS will result in further improvements in the understanding of systems as a whole, influencing factors and the interrelations in the drive trains of wind turbines. This means Schaeffler is making a major contribution to shortening development times for wind turbines as well as making the design process more reliable and increasing the cost-effectiveness and safety of these turbines.
The test rig has been named "Astraios" after a Titan in Greek mythology who was father of the four wind gods.
Realistic force and moment simulation
Wind turbines are constantly subjected to changing wind conditions - from calm weather to storms ASTRAIOS simulates the real loads and moments which occur in a wind turbine.
For rotor bearings and slewing rings
All rotor bearing support concepts can be tested
For wind turbines of up to 6 MW
Animation: simulation of all forces and moments
Comprehensive analysis
Over 300 sensors in the test bearings provide information to be evaluated for a variety of analyses. The measurement and control technology are provided by SARA, the automation system for R&D applications from Schaeffler. Our experts evaluate the data and improve the calculation models through comparison with the test results.
Contact Schaeffler India
Do you have any questions about our products?
We want to ensure that you receive fast, expert answers to your questions about our product portfolio. By using the form below, your question will be sent directly to our experts at Schaeffler India. Our engineers will then contact you.
Share Page