Small bearing that packs a punch
Fewer Emissions and Better Range Thanks to New High-Performance Ball Bearing from Schaeffler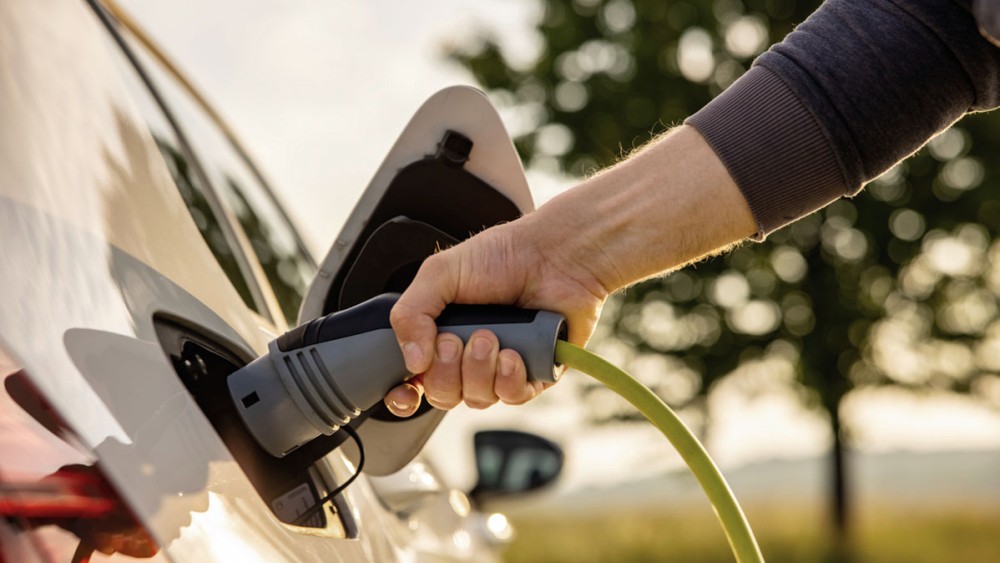 2022-05-02 | Herzogenaurach
World's first: A ball bearing with integrated centrifugal disc from Schaeffler combines the benefits of two bearing designs for the first time.
Matthias Zink: "Our new ball bearing will make drives even more efficient and further increase the appeal of electric mobility for everyday use."
Greater efficiency: The bearing ensures lower CO2 emissions and greater range for electric vehicles.
Better sustainability: Greater performance allows the bearing and transmission to be downsized, reducing emissions still further.
They literally move the world as no powertrain can do without bearings ─ be it electric cars, hybrid vehicles or internal combustion engines. Schaeffler has now developed a special high-performance ball bearing with an integrated centrifugal disc. This disc helps lower CO2 emissions in vehicles with combustion engine and hybrid powertrains. Electric cars, on the other hand, benefit from the fact that they can drive further on a single charge. The bearing weighs just 300 grams and is between five and ten centimeters in diameter, depending on the application. "Innovative strength is a key factor safeguarding Schaeffler's corporate success and automotive business," says Matthias Zink, CEO Automotive Technologies at Schaeffler AG. "Our new ball bearing will make drives even more efficient and further increase the appeal of electric mobility for everyday use."
The first automotive manufacturers have been using the new ball bearing in production hybrid and double-clutch transmissions since 2021, and the automotive and industrial supplier is collaborating with other manufacturers in development projects moving forward to a volume production launch. The company is likewise transferring the patent-pending technology to ever new application areas in its bearing business, including dedicated electric vehicles. The bearing was also recently included among the finalists for the 2022 German Innovation Award in the large-scale enterprise category.
The best of two designs
Ball bearings are either open on the sides ─ known as open bearings ─ or have seals made from special rubber. These sealed bearing units keep contamination away from the balls and raceways of the bearing rings. This translates into less wear and, thus, a longer service life. The drawback, however, is the higher level of friction in the bearing, which corresponds to valuable energy being lost. In open-style bearings, although this friction is reduced, the bearing units break down more quickly due to the lack of protection from contamination. A real dilemma. With the high-performance ball bearing with integrated centrifugal disc, Schaeffler has developed a truly unique bearing that combines the benefits of an open bearing with those of a sealed one. As such, significantly less energy is lost in the bearing in the form of friction. "Less friction means that drive energy is used more efficiently. This, in turn, lowers emissions and improves the range of electric vehicles," says Dr. Dieter Eireiner, Head of the Bearing Business Division at Schaeffler.
What really makes the new bearing stand out is that the rubber seals that are normally attached firmly to the outer sides of the bearing are replaced with a specially designed centrifugal disc integrated in the inner ring. This disc keeps contamination out ─ similar to a sealed bearing. Since the disc rotates freely, however, the bearing generates about 80 percent less friction than with conventional seals. The result is a CO2 reduction of up to 0.3 grams per kilometer per vehicle. Reducing losses of up to 30 watts per bearing can also improve the range of electric vehicles by up to one percent. "Efficient bearing solutions play a key role in sustainable mobility. With our new bearing, Schaeffler shows that small changes can make a big difference," says Eireiner. The centrifugal disc bearing also lasts considerably longer. Compared to an open bearing, the service life increases by a factor of up to ten, whereas the unit lasts twice as long as conventional sealed ball bearings. This, then, means that bearing and transmission assemblies can be downsized in the future, thereby conserving material and weight.
Ball bearings for greater efficiency in electric drives
Schaeffler has been developing and manufacturing needle roller bearings for over 70 years now. In 2001, the company acquired FAG Kugelfischer Georg Schäfer AG in Schweinfurt, Germany, thereby significantly expanding its rolling bearing portfolio. Bearings are indispensable for the automotive industry as well as in mechanical engineering and transmission manufacturing. Even dedicated electric vehicles cannot do without them. In electric cars, although one forward gear is usually enough to whiz away, they also use what is known as a reduction gear to reduce the speed of the electric motor by a fixed factor, thereby making it compatible with both low and high speeds. As more and more electric motors reach speeds of up to 20,000 rpm, higher demands are being placed on the design, material, and coating of transmissions as well as the bearings they house. "The shift toward electric powertrains is driving innovation in bearing development," says Eireiner. To this end, the company has combined its comprehensive system know-how when it comes to bearing technology and electrified drive systems. It is on this basis that Schaeffler also develops bearings that prevent e.g. current-induced damage, particularly in electric drives running at 800 volts or with silicon carbide semiconductors as used in power electronics.
Publisher: Schaeffler AG
Country: Germany
Share Page